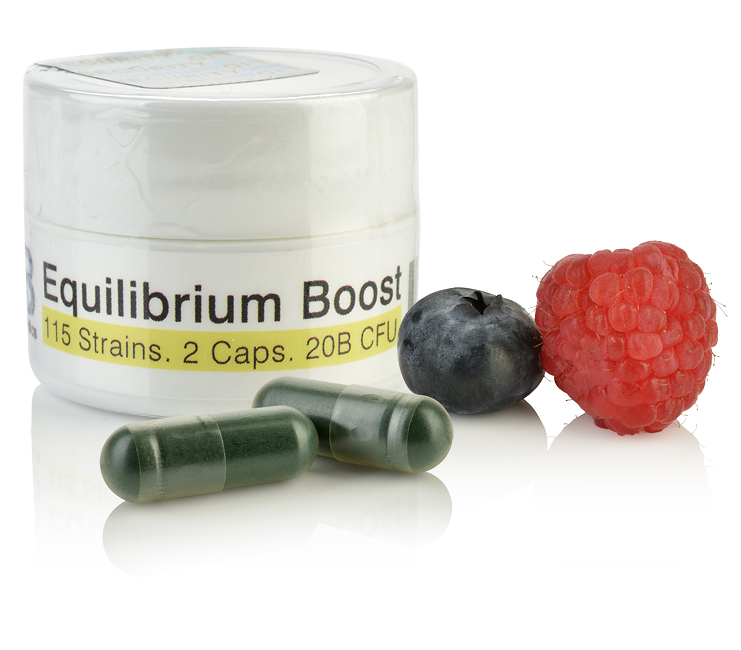 Boost - Time Release Equilibrium Probiotic Starter with Prebiotic

– Effective Easy to Swallow Capsules
– Helps with Acute Stomach Flare Ups
- Highest Strain Count in the World
– 115 Strains
– 20 Billion CFU
RESULTS Boost couples the world's highest probiotic strain count with a 10 billion CFU concentration to jump start the growth of our highly viable organisms blossom deep in your GI Tract, where needed most and help crowd out parasitic organisms that may live there. Equilibrium daily use has been reported to promote long term digestive and immune health, so why not start your regimen, or help a digestive flare up, with a Boost.
DIGESTION Our enteric, targeted release capsules are kosher and vegetarian, with 10 BILLION colony forming units to help relieve stomach sensitivity fast. Evolutionarily complete digestion means your food may be more bioavailable, so your whole body benefits. Replenish beneficial flora and crowd out parasites to help optimize digestion, lessen minor digestive discomfort, and promote fast relief from bloating, gas, and irregularity. If you are dysbiotic, you will likely know it!
MOOD Boost is formulated to start a healthy microbiome within the gut microenvironment and crowd out other microorganisms in order to promote complete digestion for the relaxed sensation of health rather than the jitters associated with caffeine. Better nutrition means you can finally feel like your happy, energetic, and vibrant self!
IMMUNITY Replenish beneficial bacteria to optimize your immune health. With 115 strains and 10 BILLION CFU, our living organisms reach your bowels to Boost the normal proliferation of beneficial bacteria and reduce harmful bacteria by outcompeting it. Symbiotes like this have been correlated with improved immune response. It might not cure the common cold, but it's worth a shot!
WEIGHT New studies show that gut microflora may improve your metabolism and accelerate fat loss. Accelerate the rebalancing of your gut with this 10 BILLION CFU formulation to control your appetite so your waistline can follow.
ATHLETICS Fatigue and irritability are often a result of vitamin and nutrient deficiencies. Good microbes can improve bioavailability and absorption, as can crowding out bad microbes that may already be in your system. Boost could increase your energy levels and optimize your workout recovery time for more muscle mass.
WELLNESS You've heard that the majority of all disease begins in the colon. 70% of your immune system is in your gut, and when probiotics (good bacteria) are abundant in your body, the bad bacteria are crowded out and find it harder to settle in. Boost helps with this by starting a healthy microbiome in the gut, which can be maintained with daily Equilibrium probiotic. In with the good; out with the bad.
QUALITY Boost remains effective without refrigeration. Gluten, Dairy, and Wheat Free and no preservatives. 100% Safe Natural USA made product with NO chemicals, preservatives, fillers or blenders added. Use with confidence.
Nutrition Facts
Servings: 1
Serving Size: 2 capsules
CFU per serving: 20 billion (daily value not established)
Other Ingredients: prebiotic (Hawaiian-grown spirulina), delayed-release capsules (plant-derived hypromellose)
Counsult doctor before use.
MADE IN THE USA.
ALL NATURAL AND SAFE PROBIOTIC INGREDIENTS
A STARTER FOR THE INDUSTRY LEADING REVOLUTIONARY EQUILIBRIUM FORMULA WITH 10 BILLION CFU TO ENCOURAGE GROWTH AND HELP OUTCOMPETE PARASITES
Hypromellose is an ingredient used in gluten free bread. It is well studied, inert / non-toxic, and in our opinion is the safest known solution for delayed release capsules.
Contains trace amounts of soy, 20 parts per million (0.002%) or less gluten.
Contains no dairy, eggs, fish, shellfish, gelatin, nuts, wheat, casein, MSG, stearates (including magnesium stearate), GMO, artificial color or flavors.
Caution: As with any food or dietary supplement, consult your doctor before using this product, especially if you are nursing, pregnant, plan to become pregnant, are immunocompromised, under active health supervision, or anticipate surgery.
Disclaimer: This product is a nutritional supplement, and is solely intended to help you increase your microbial intake.
These statements have not been evaluated by the Food and Drug Administration. This product is not intended to diagnose, treat, cure or prevent any disease.
Do you have more questions about Equilibrium Boost? See our FAQ, or email us at questions@generalbiotics.com
Are you interested in learning more about your microbiome? See our science section for an overview of the human microbiome, or see our microbiome testing section for options to directly test your personal microbiome.